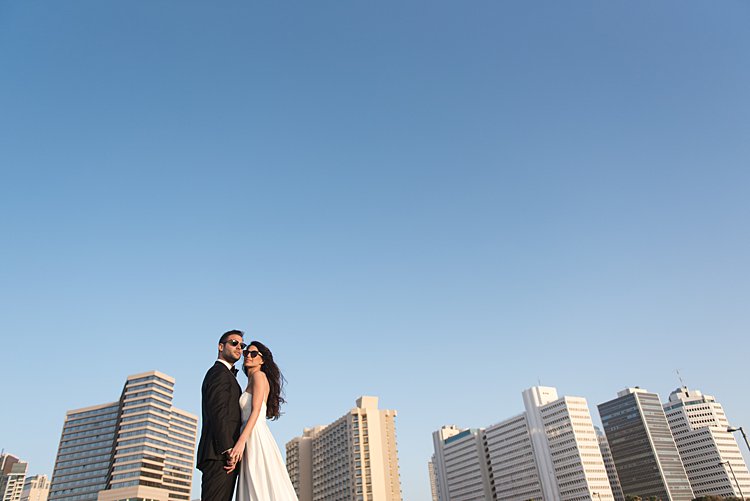 OK could today's destination Jewish wedding be any cooler? That portrait of the couple just chillin' in shades against the backdrop of the Hadera skyline – LOVE. And the super colorful floral chuppah with the suspended tallit canopy? Perfection.
We're obsessed with the gorgeous wedding photos from Smashing The Glass Recommended Vendor LUZ Weddings. From the emotion and spirituality of the chuppah to the wild party (complete with Brazilian drum line) to the artsy portraits taking advantage of awesome architectural backdrops, every image is so memorable. Of course, it doesn't hurt that Lisa, a strategic consultant for The Behavioural Architects, and Igor, Igor is a press officer at the UK's Home Office, are a totally stunning couple.
A DESTINATION WEDDING IN ISRAEL
Although we're a very international couple, we both knew that we wanted to get married in Israel. We looked at a few different venues, but Baya'ar in Hadera convinced us with its natural yet elegant charm.
A FAB PLANNER
We had an incredible wedding planner – Natalie Abraham – who became a true friend throughout the planning process. She went above and beyond to make our dream wedding become reality and took so much weight off our shoulders.
Taken from:
Smashing the Glass Blog
Article published in 2018