Considered as one of the most significant places on earth for the Jewish people since biblical times – Israel! This land that carries momentous meaning; where East meets West; where the sun shines nine months of the year.
Israel! Where weddings, Bar and Bat Mitzvahs are a fun, exotic and spiritual experience at the same time. Where people from all over the world come to enjoy a unique celebration, reuniting with friends and family, and enjoy an extraordinary vacation.
The land of milk and honey; oh so small on the world map, yet holds the world in its hands, and offers an abundant selection of special venues for holding all types of events as no other country can offer, naturally intertwining the richness of Jewish history, traditions & culture.
Popular choices for wedding & event venues in Israel range from a traditional synagogues, ancient ruins, by/on the beach, in trendy Tel Aviv, at a choice of coastlines (Mediterranean Sea, Red Sea, Dead Seas), farms, vineyards, forests, and of course not forgetting the old city of Jerusalem. The sky is the limit.
Weather-wise, you can be 99% sure that you will not have a rainy day from May through September. During the winter months, Eilat serves as a great getaway for you, your family and guests, to benefit from as much sun as possible. Although winter weddings in the heart of Israel, certainly has its own charm. (Read more about winter weddings in Israel)
When thinking about having a destination wedding/event in Israel, it's a great idea to help your family and guests have an easy and smooth welcome to the country. You can set up a private webpage for your event including recommendations and advise such as:
– Group accommodation for different budgets
– Transport information
– Car rental options
– Recommended things to do and places to see
– Hair & make-up artists for the event
– Informing them on the local weather forecast
– Event related schedule of events (Henna, Shabbat Chatan etc)
– Organized tours for families/groups (Some popular choices include the old city of Jerusalem, the Dead Sea, Masada, the Galilee or Golan Heights and much more)
Top Tips:
– Book your venue as much in advance as possible, and other vendors at least 6 months prior to the event.
– Book your flights and accommodation once venue has been closed.
– Send 'save the dates' immediately.
– All agreements with any vendor (to the smallest detail) should be in writing.
– Ask about hidden fees.
– Check international holidays and Jewish holidays when choosing your dates.
– Use English-speaking vendors for accurate communicating bewteen yourselves and your family/guests.
– Save yourself a lot of time and money – hire a wedding planner!  hire a bar/bat mitzvah planner! Leave yourself time for fun!
Weddings Only:
– You will need to register with the Rabbinate up to 90 days before the wedding. You can do this online (if you read Hebrew), or your planner can help you do this. Or, you can simply do it when you arrive, though I personally like to make sure everything is in order before couples leave their home country.
– A letter from your hometown (orthodox) Rabbi confirming that you are both Jewish and single.
– A Ketuba (marriage certificate) from the bride and grooms parents.
– Passport photos
ALSO PUBLISHED IN:
JEWISH NEWS, MAZEL TOV EDITION
Happy Planning!
Written by Natalie – The head dreamer & schemer
*Want more tips like this? Don't forget to subscribe in the footer below!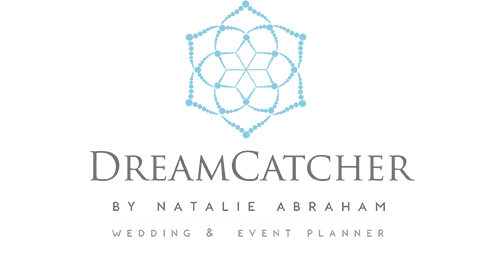 Because dreams come true